get busy doing
Palm Springs
This quick trip
was to celebrate 70 days before our wedding (stay tuned for the 10th episode of the series: Thoughts of a 30 Something). What better way to celebrate than in eccentric, colorful and sunny Palm Springs! The mix of desert landscape, mid century modern architecture and 60's glamour comes together to make this just the right place to spend a short but lovely weekend. The vibe in this city is so unique, and it's almost surprising that it is only about 2 hours away from Los Angeles. Read on to see our favorite spots in this gorgeous desert city!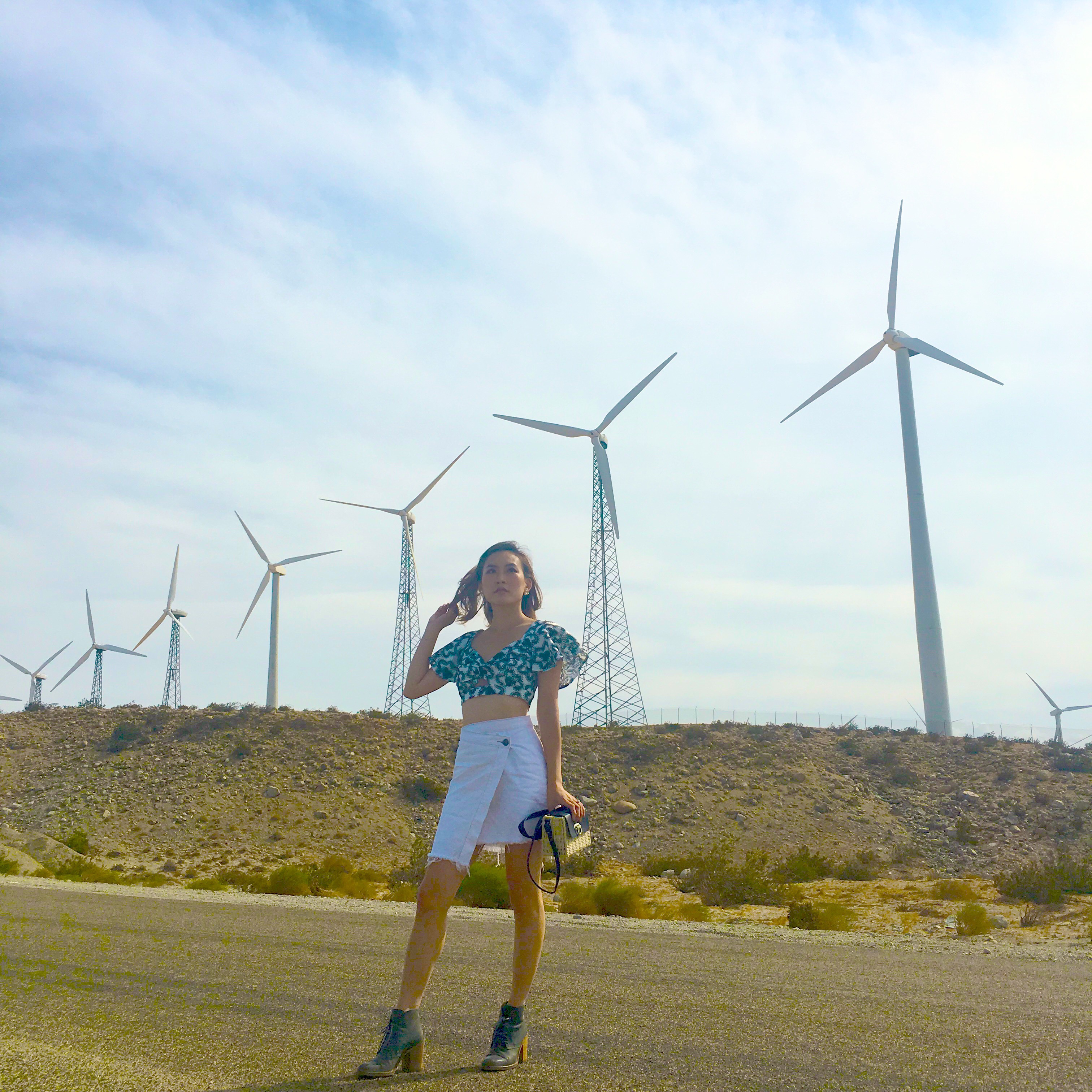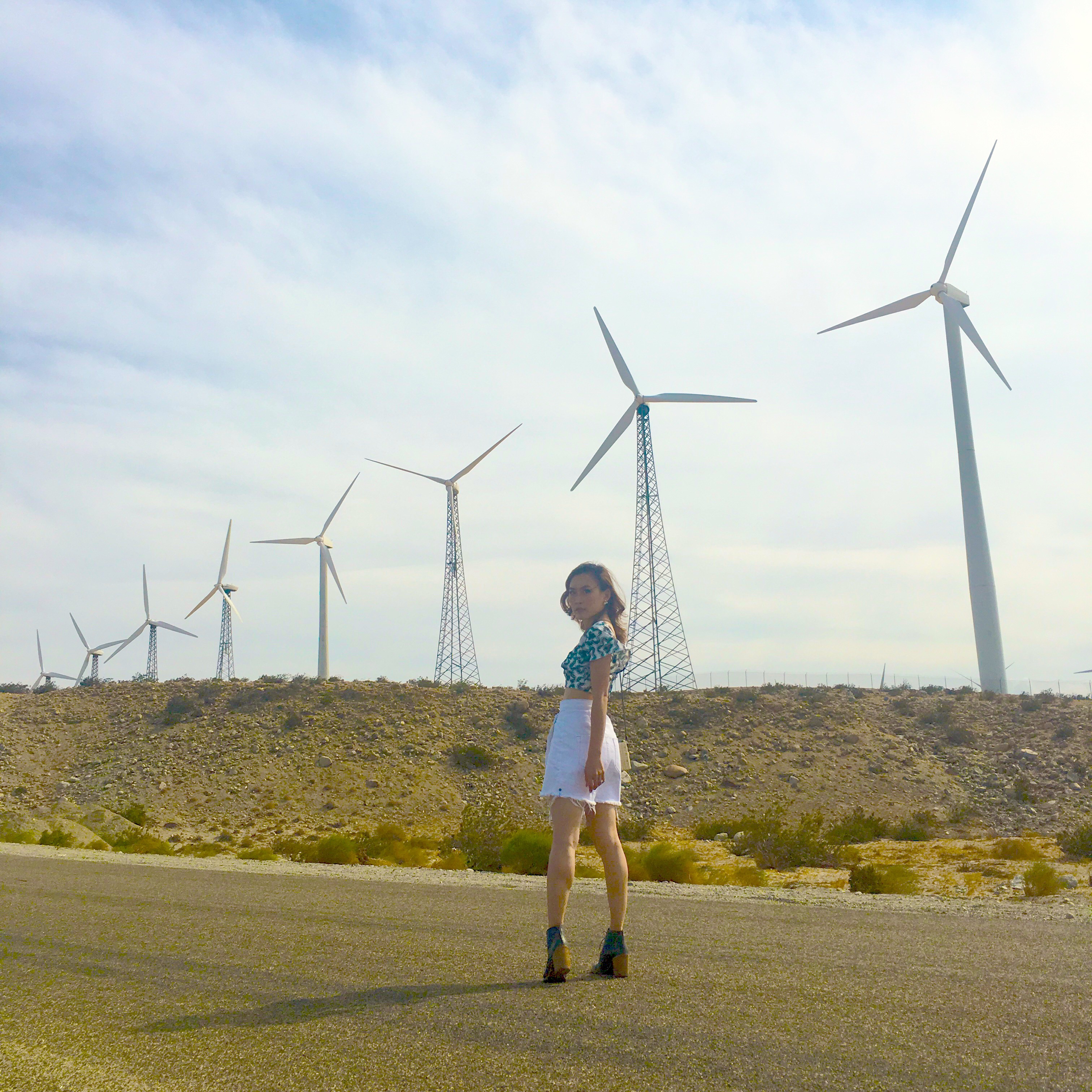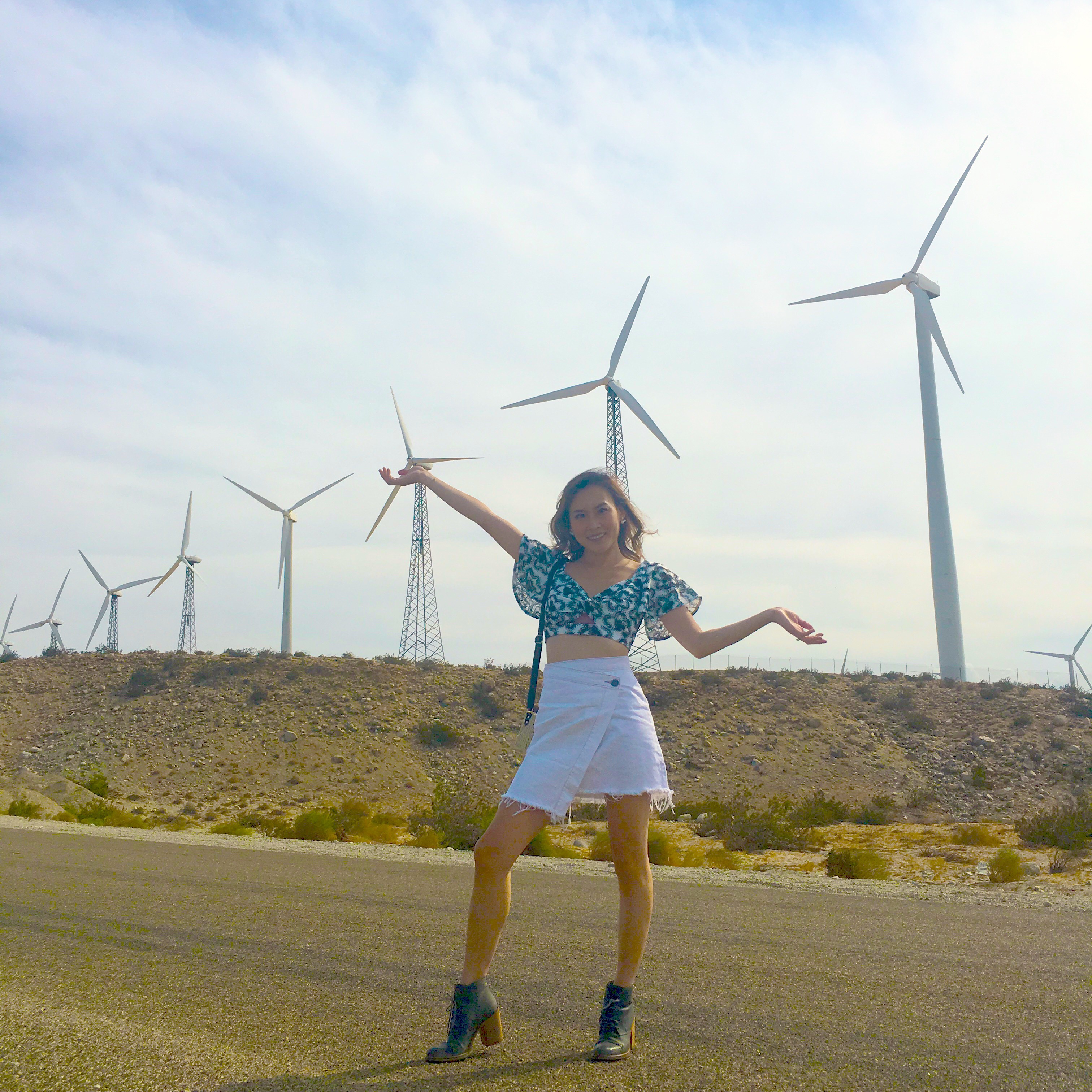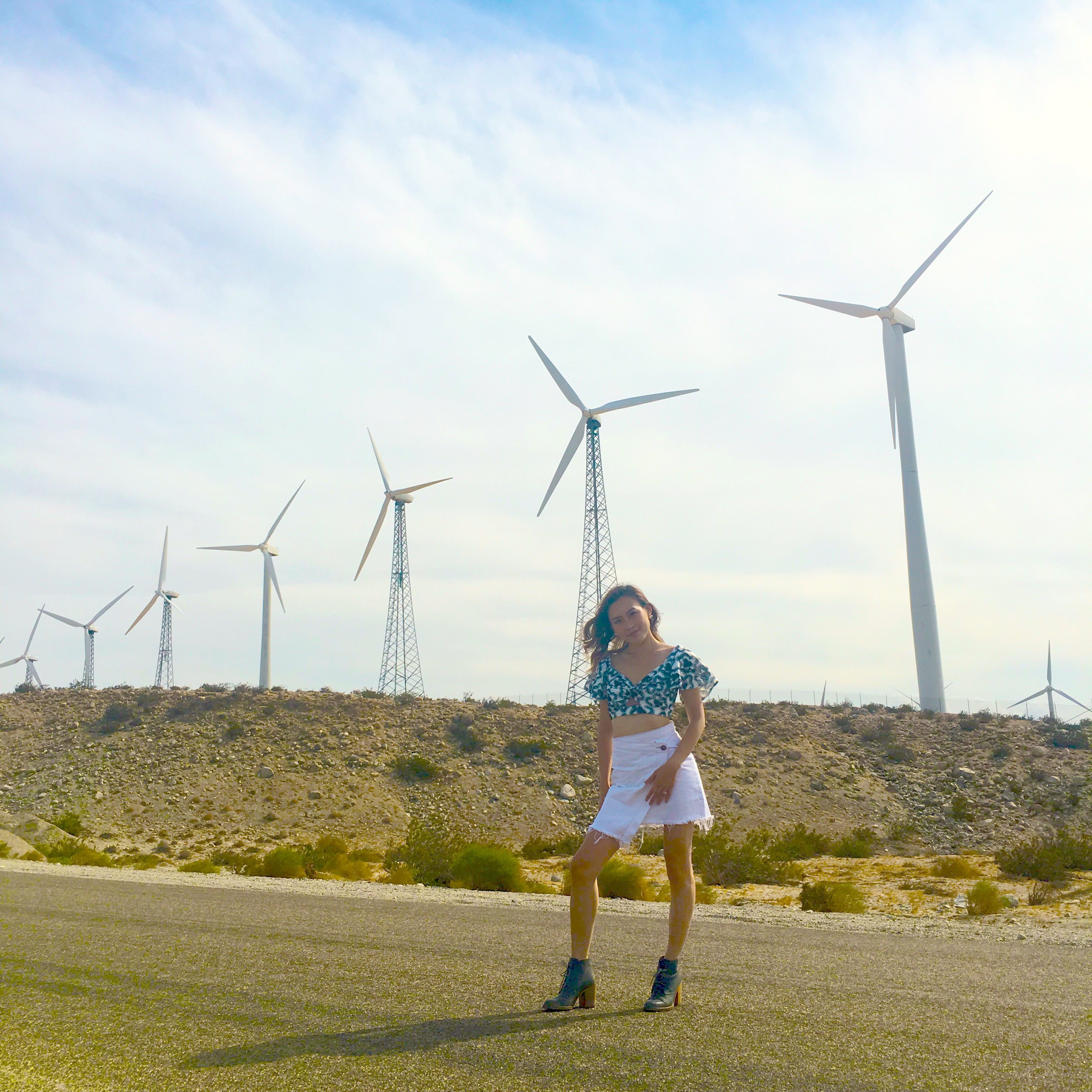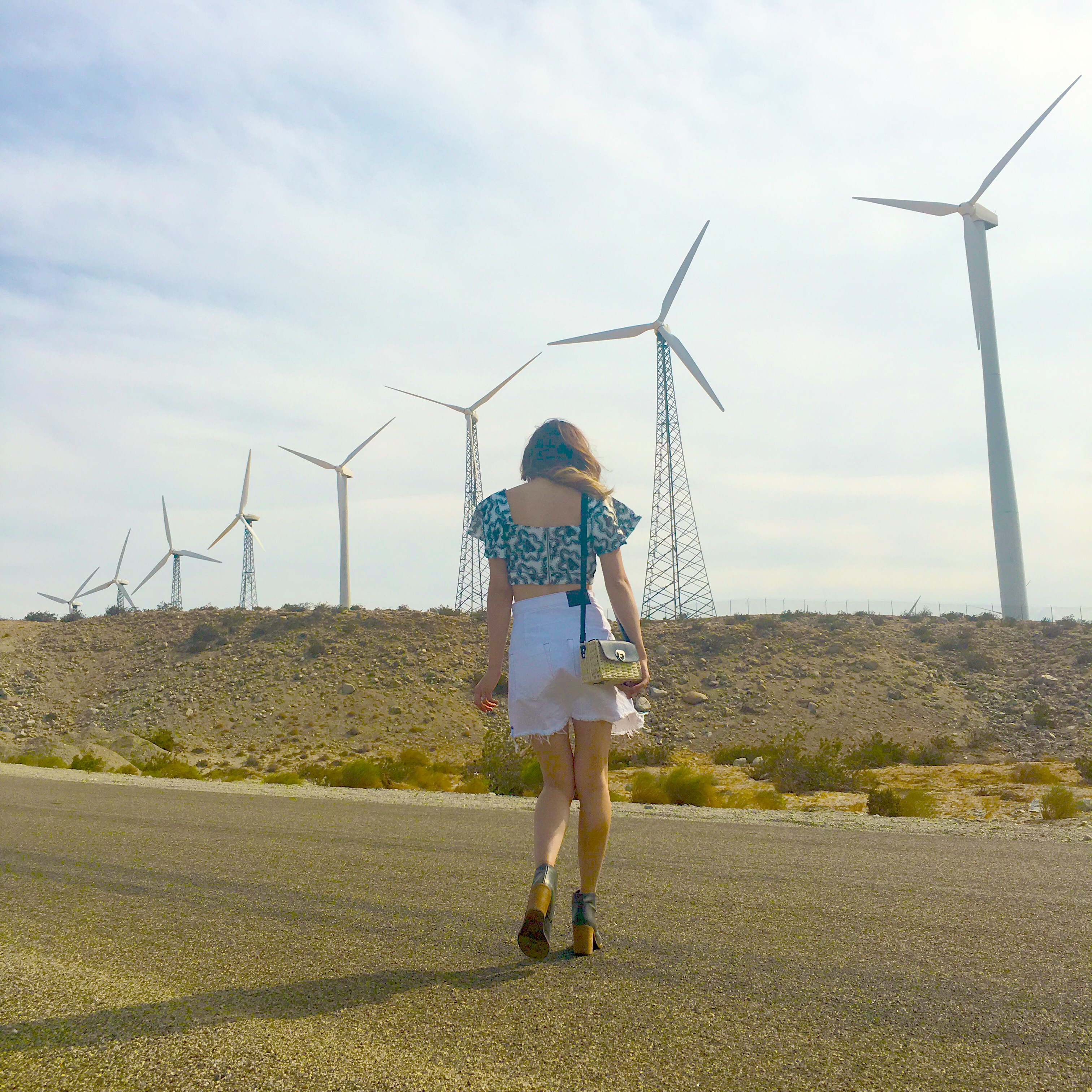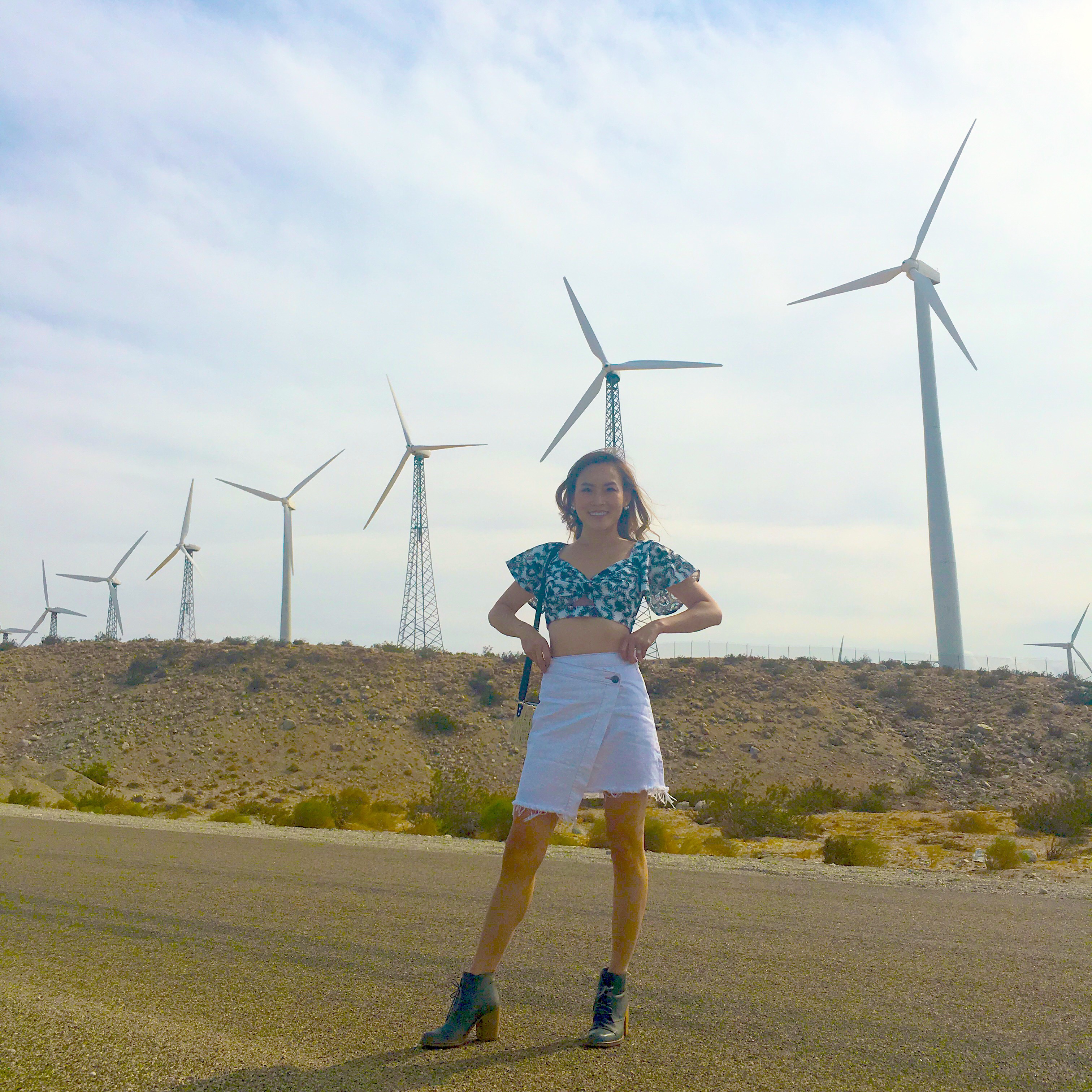 Saturday, 8:00 am
Our first location was the Palm Springs Wind Turbines, a stop right before reaching Palm Springs. I have always reveled at the rows of wind turbines that line the desert horizon. They're like the Zzyzx exit on the way to Vegas. When you see them you know Palm Springs is right around the corner! These majestic machines start rising from the desert floor before you hit the Palm Springs city limits. To my surprise, the majestic army of white is not an army of windmills. Some in-depth Google research revealed they are actually wind turbines. While wind turbines were designed to generate electricity, windmills were originally created to pump water to mill grain. You learn something new everyday. 🙂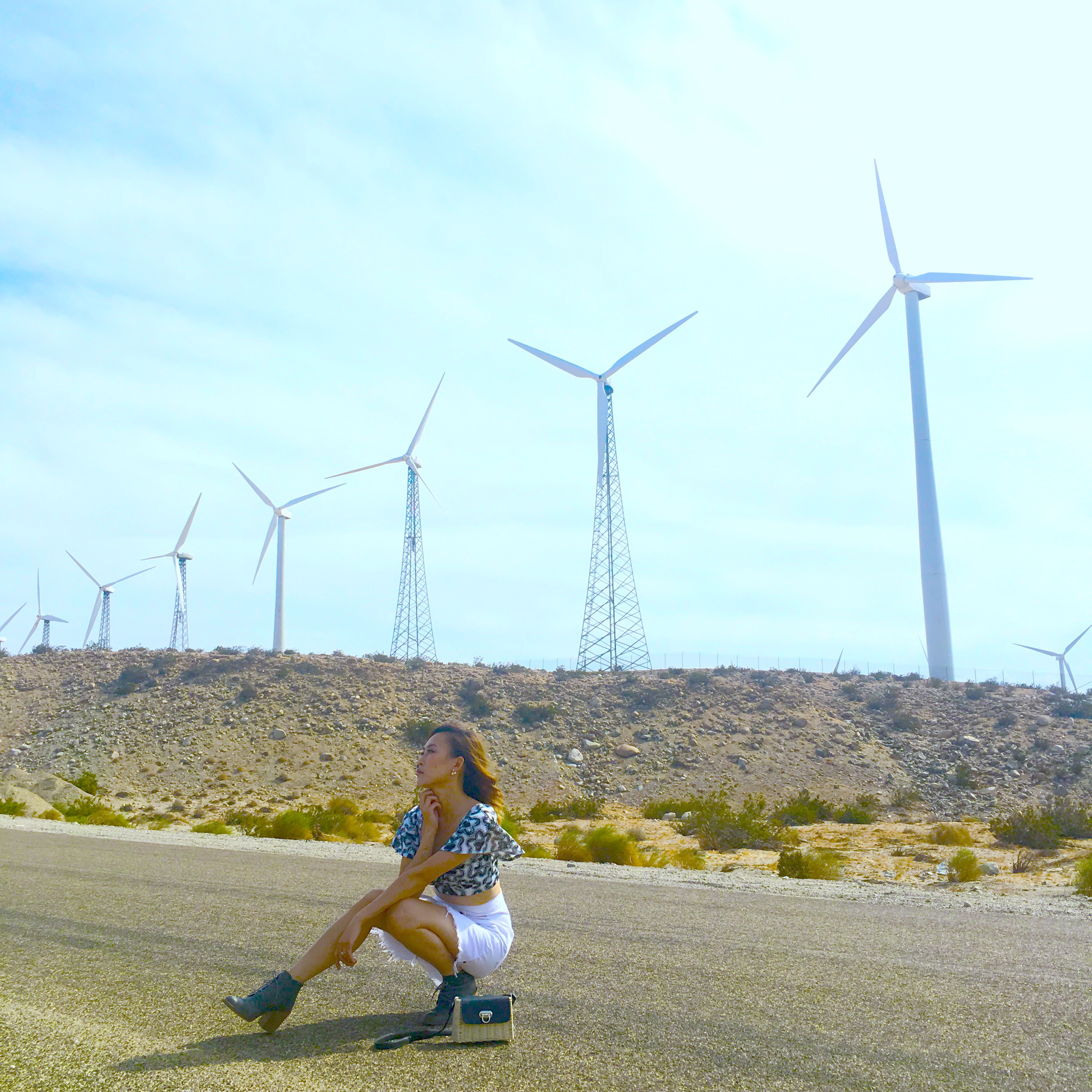 For our weekend accommodations, we decided to stay at The Colony Palms Hotel and Resort. I always feel like the hotel selection process is delightful yet anxiety ridden. I never really like spending too much on a room especially for a 1 night stay. If any of you use Ebates, Ebates Hotels generally has the cheapest rates once you factor in cash back.   Speaking of Ebates, they strangely offer cash back for almost every online retailer. I can't say no to free money.  Here's my shameless Ebates referral link in case you want to sign up:
Colony Palms is nothing short of a desert oasis. In addition to its beauty, the hotel has a rich history. It was first established in 1936 as a colonial house (Spanish colonial style hotel) by reputed mobster and member of the infamous Purple Gang, Al Wertheimer. After World War II, Robert Howard renamed it the Howard Manor. Robert was the son of the Academy Award-nominated actress, Andrea Leeds Howard. Thus the Manor for many years was a haven for Hollywood stars in Palm Springs. The hotel has undergone extensive renovation and was renamed the Colony Palms Hotel. The hotel's colorful history is only matched by its unique design and boutique atmosphere.
After checking in, we stopped for brunch at the Purple Palm Restaurant. I absolutely love a cold cocktail when escaping the sweltering heat of the desert. I was blown away by the interior the minute I stepped inside. It was so pretty that I found myself irrationally questioning whether the food would be on par. It was almost too good to be true. Luckily the food at Purple Palm Restaurant was delicious. They specialize in California cuisine and call their menu "approachable that nourishes and delights." One item on the menu, the fish tacos, were both familiar and novel in their taste. I'd definitely come back for another bite!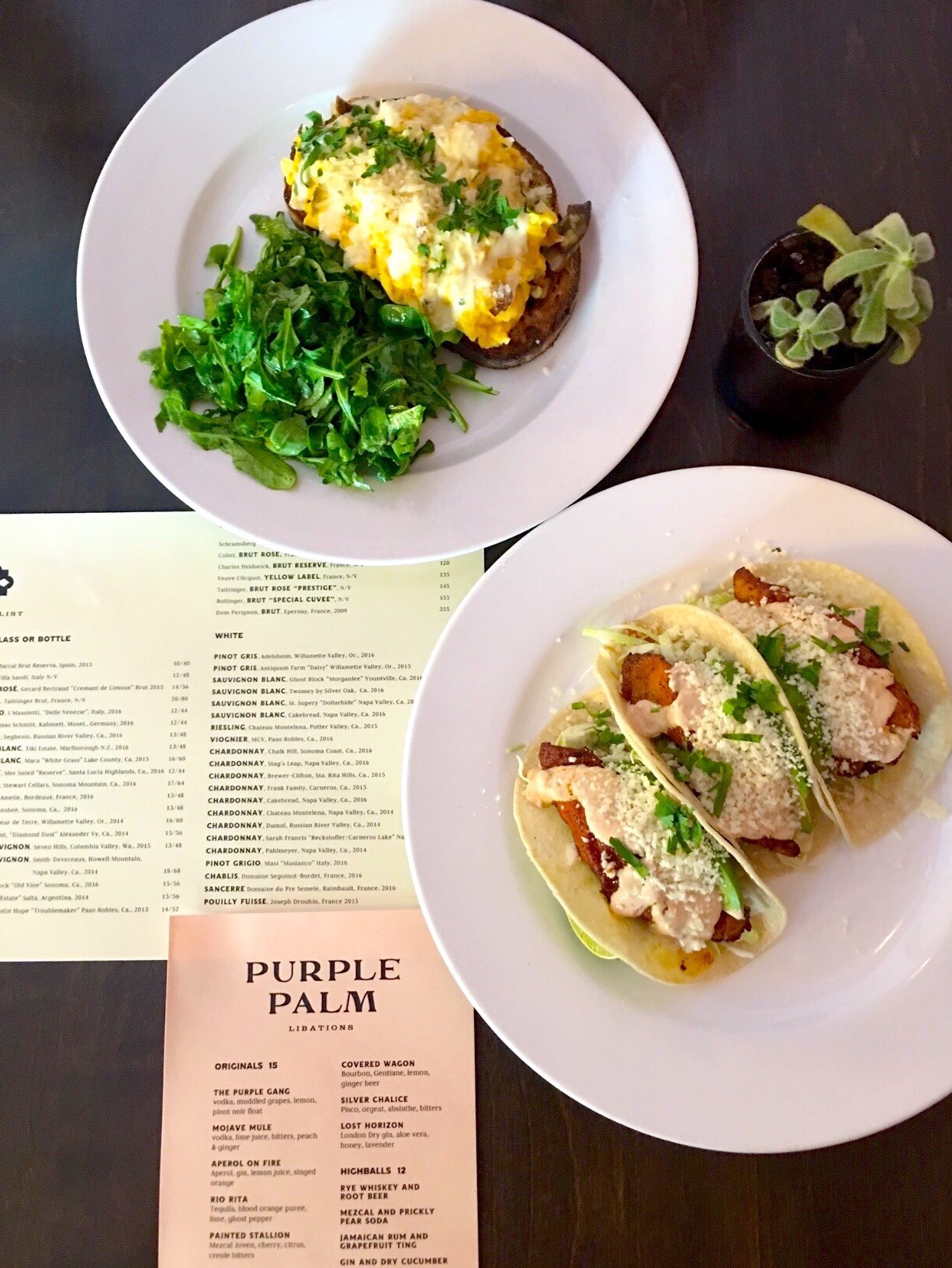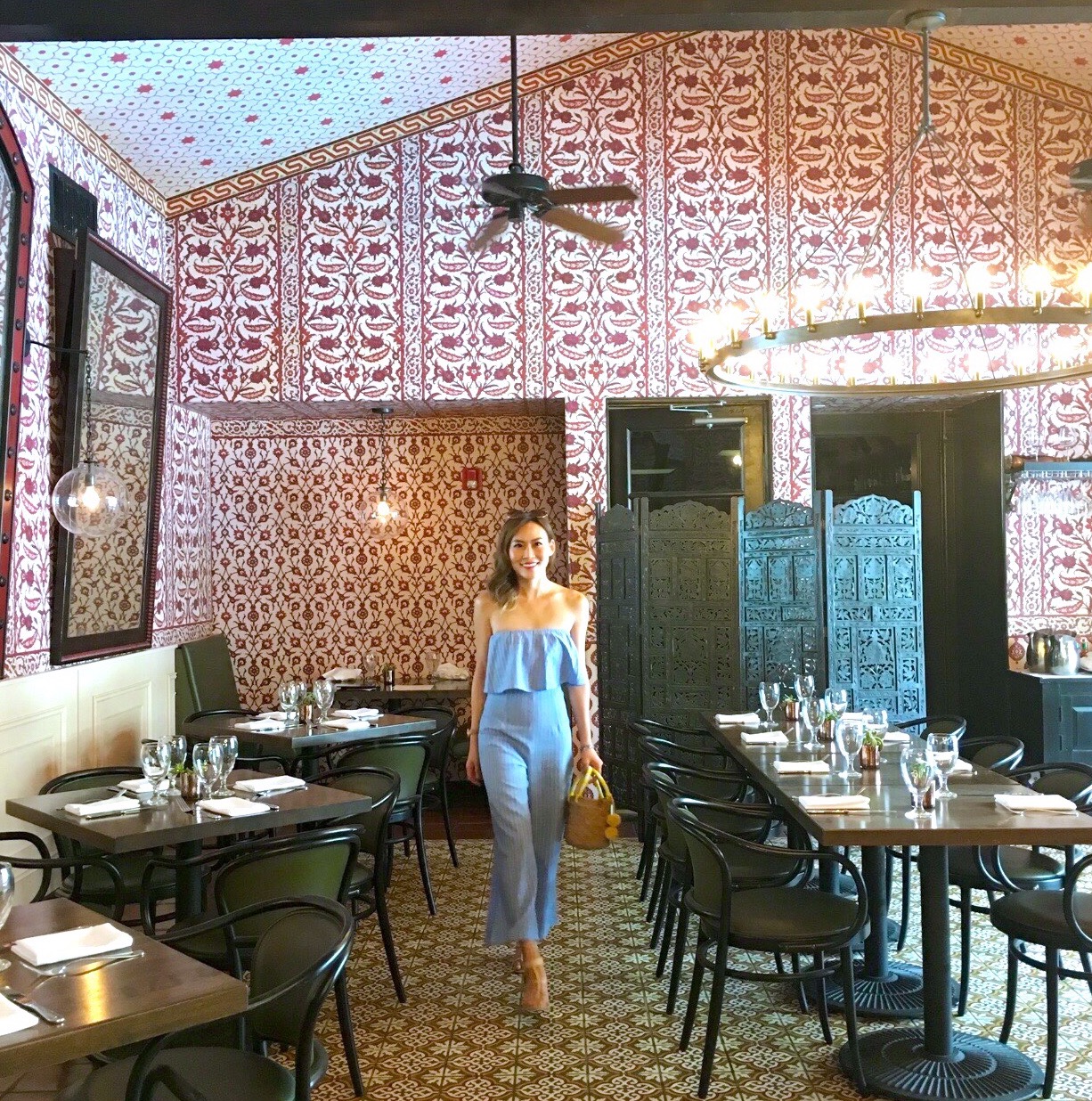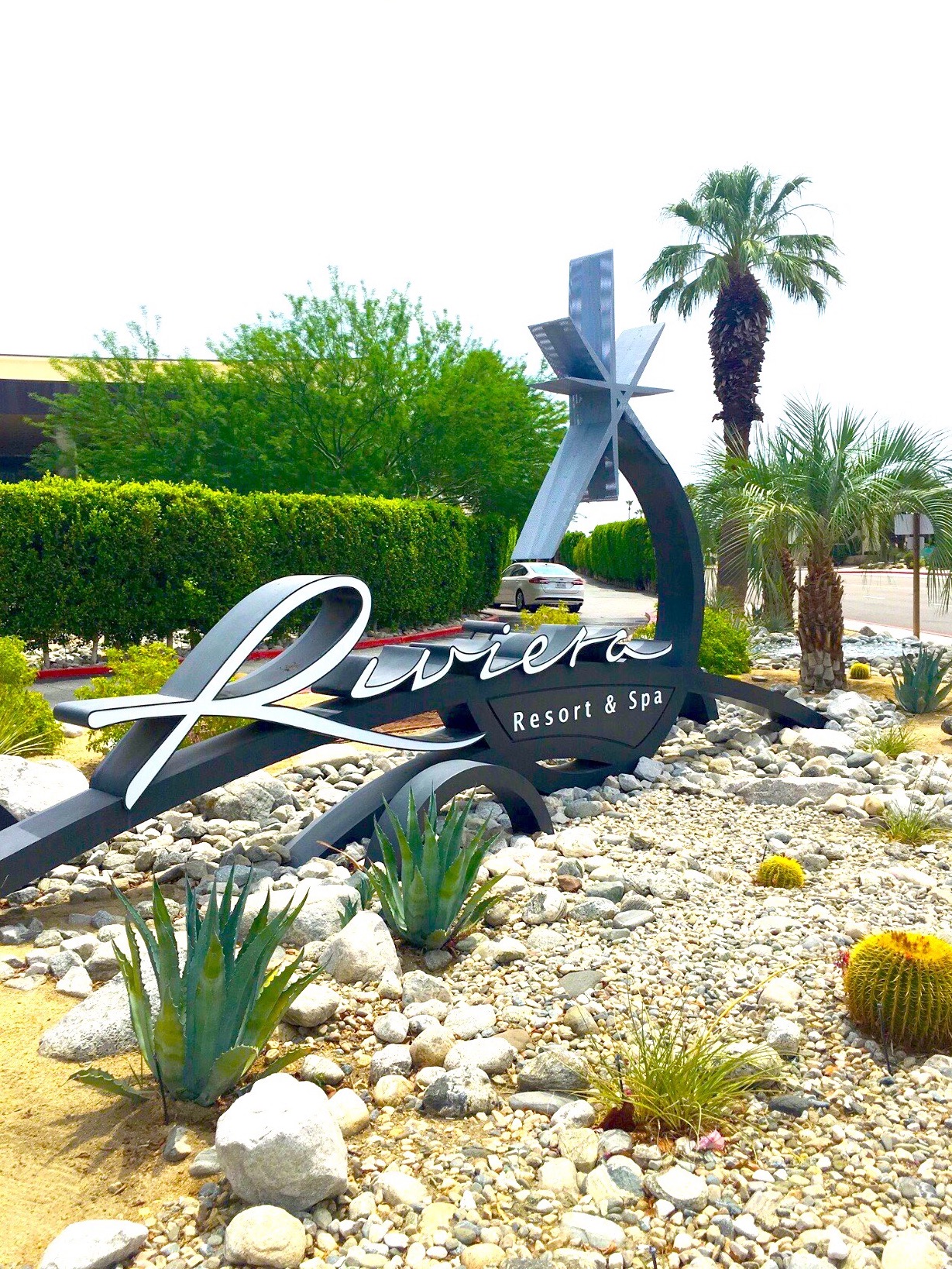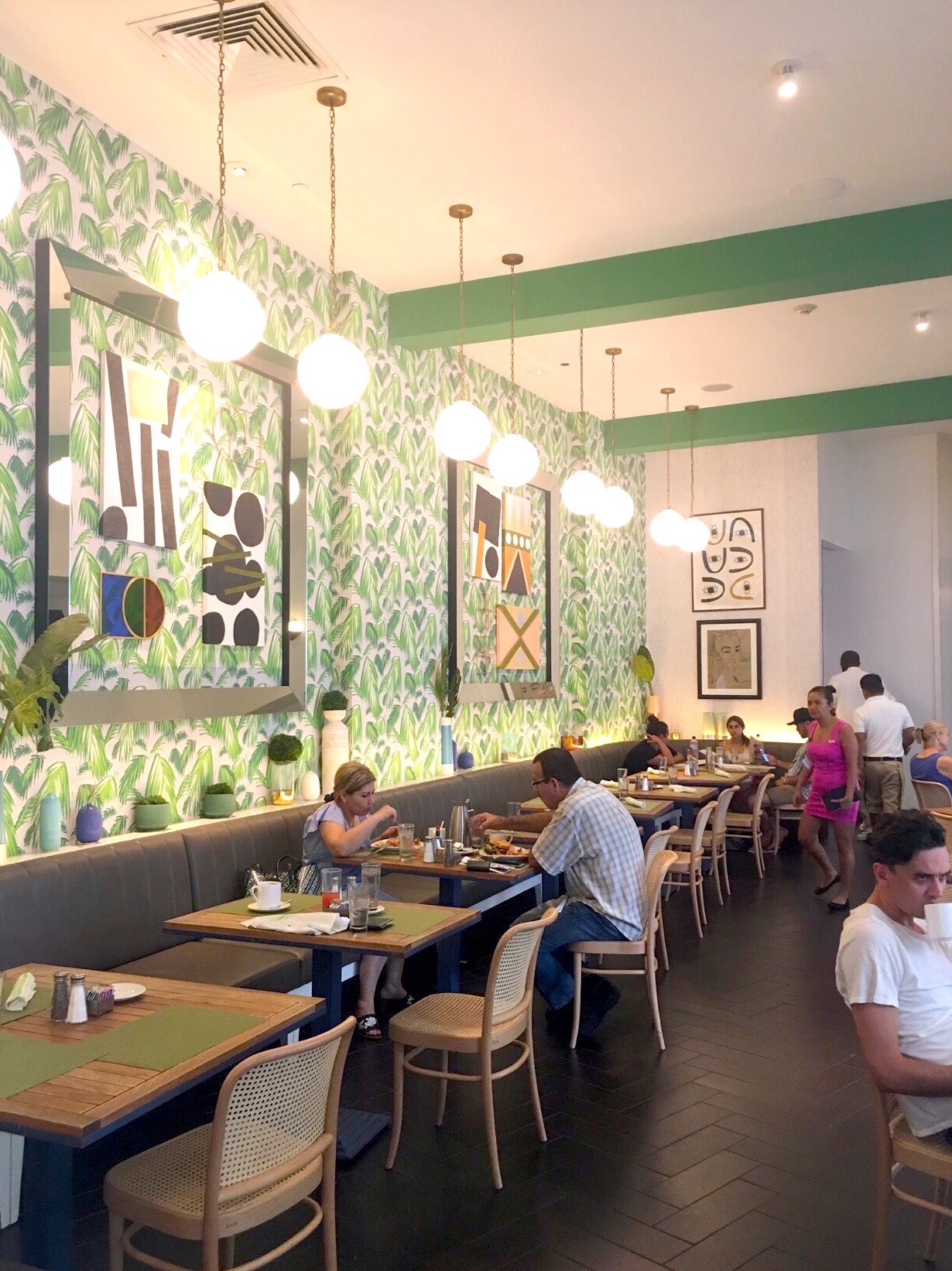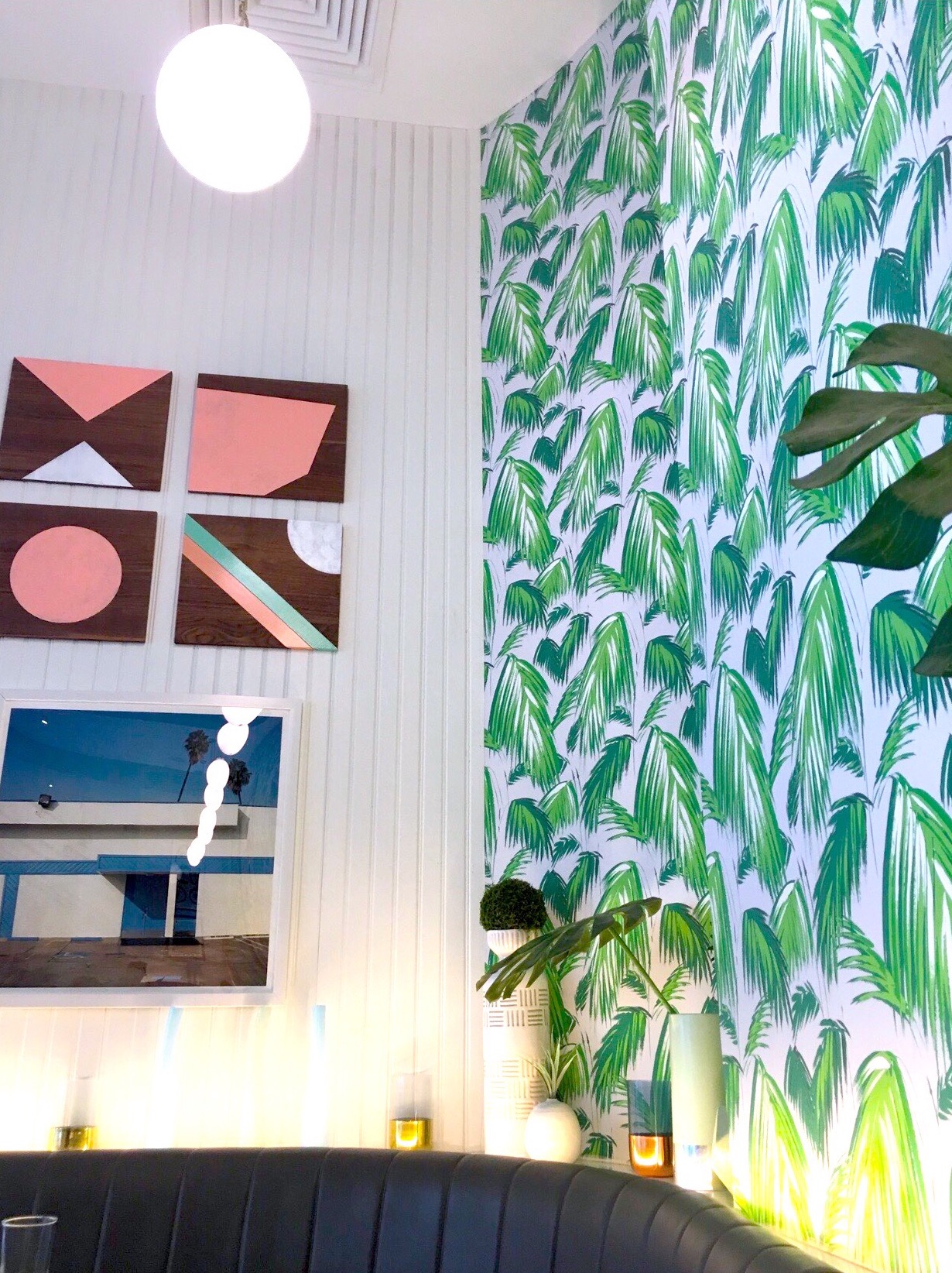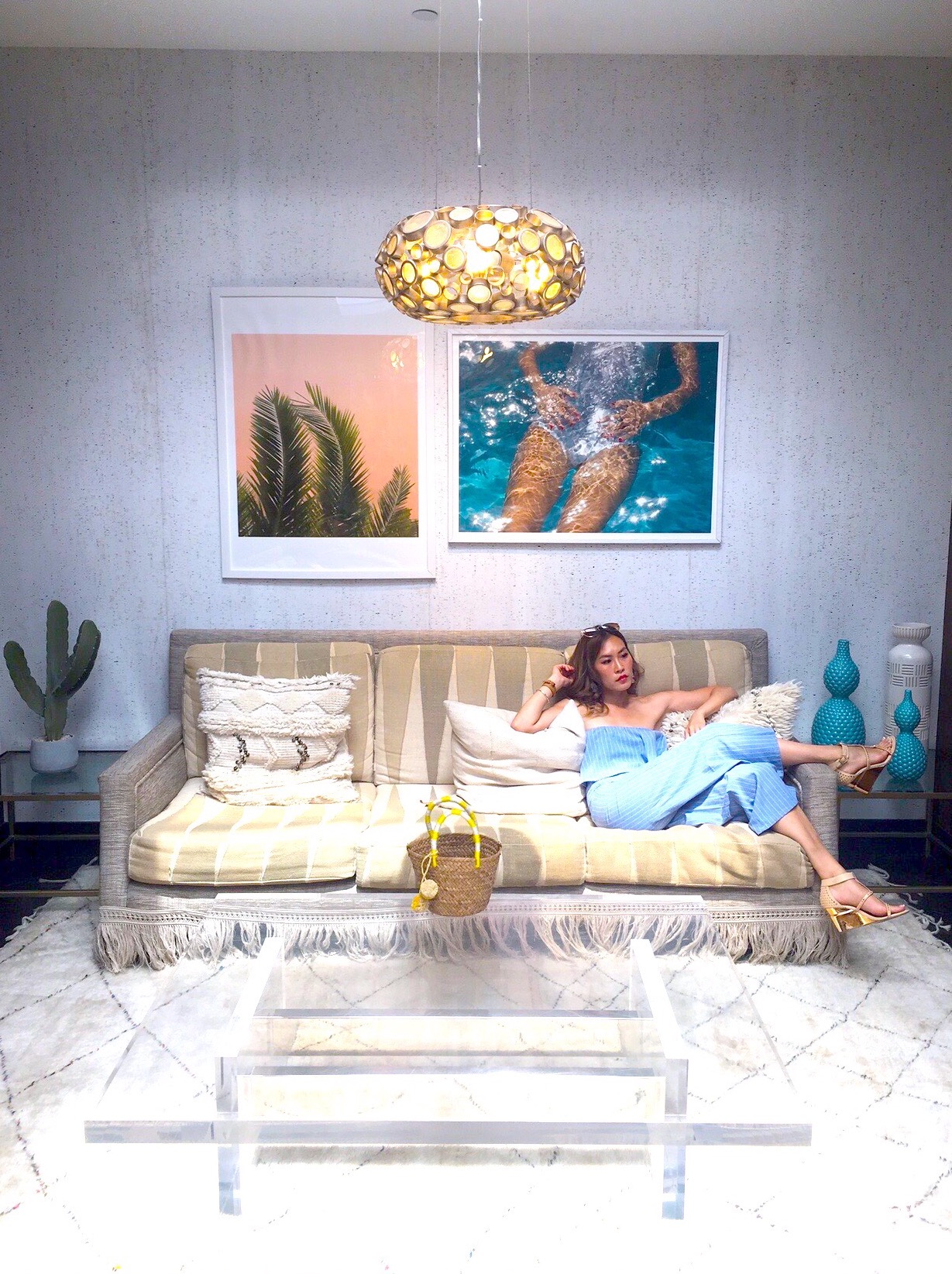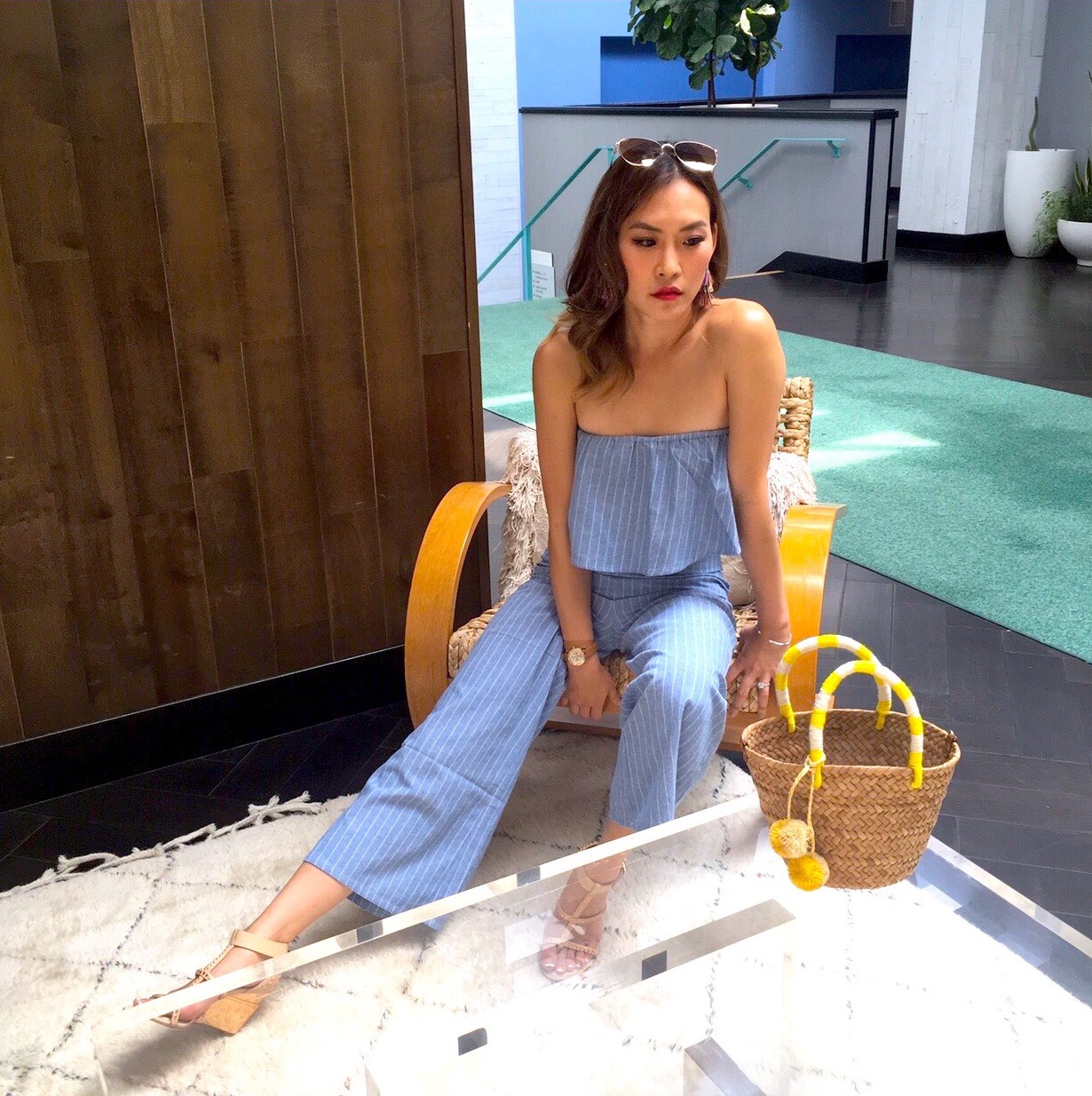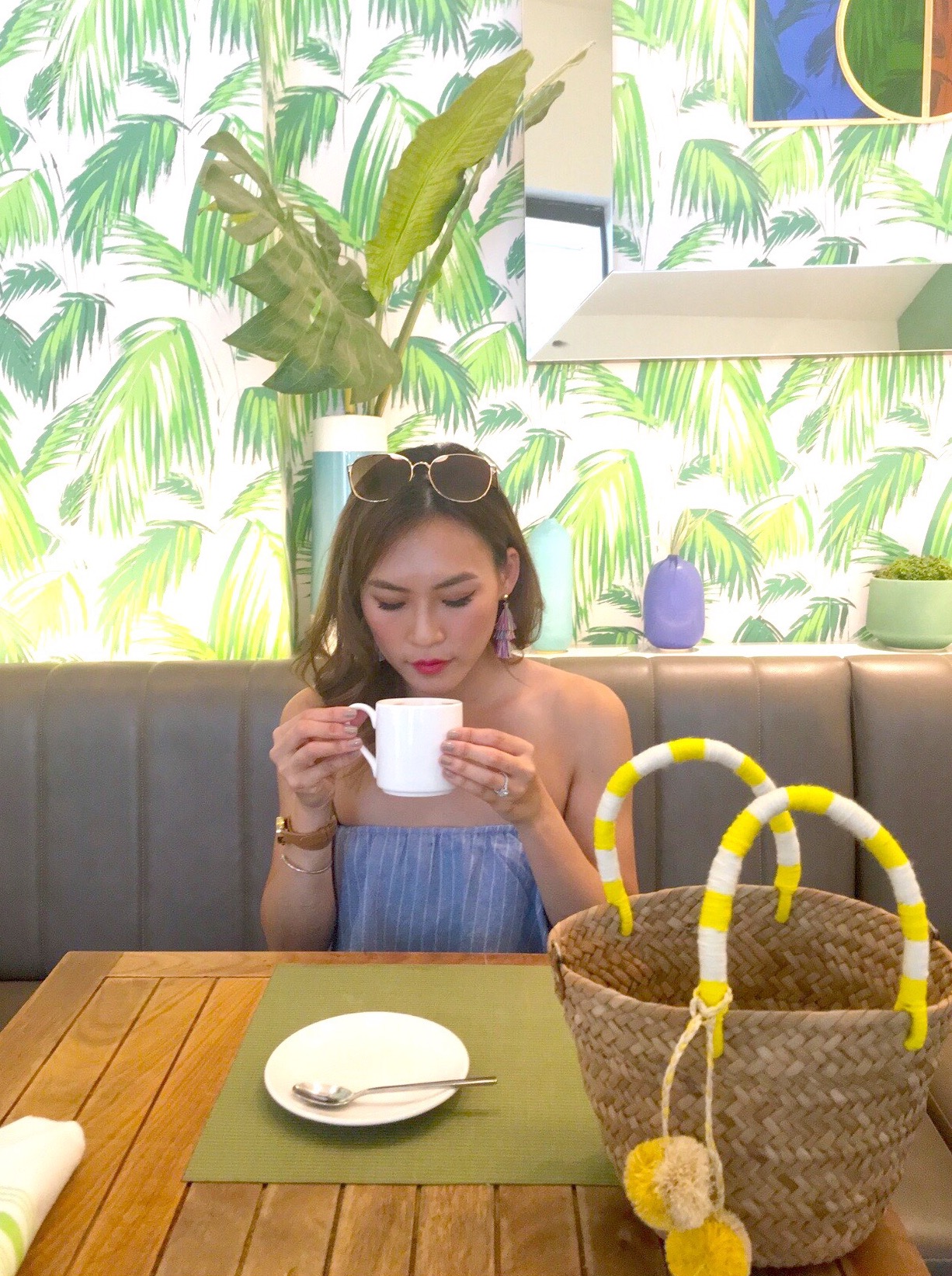 Saturday, 11:00 am
Our bellies full, we made our way over Coffee at Cafe Palmetto for, surprise: coffee. While they did have a cup, the place is more so a restaurant that has coffee as opposed to a coffee shop. That said we didn't mind admiring the decorated walls with 1 sugar, 2 cremes.
Saturday, 12:00pm
Wired up on caffeine, we went on a little adventure exploring some unique hotels for future visits. Palm Springs is so accessible, it's becoming a home away from home.
The first hotel we visited was Korakia Pensione. I was quite surprised to learn that this Mediterranean-style hotel forgoes technology such as TVs, phones and clocks in place of vintage books, board games, and film screenings. Another signature touch includes yoga classes, complimentary bicycles and afternoon Moroccan tea service. This would be a perfect place for romantic getaways during anniversaries. While they did allow us to peruse the grounds, we weren't allowed to take pictures.  I actually consider this a plus, since the hotel is serious about keeping an intimate vibe for its guests. Korakia Pensione, you have been noted as our next spot!
Saturday, 1:15pm
The Saguaro is the famous hotel in Palm Springs known for its multi-colored design.  They normally have weekend pool parties open to the public for a $20 cover charge. However, we were told that these open parties now only occur on Sundays.  Saturdays are reserved for hotel guests and those willing to get bottle service. One peek inside showed an extremely lively scene. So lively that I didn't see any room in the pool or anywhere else for that matter. I may forego future visits to lodge here due to how "party-esq" it was. As I get older, I need to rest when I am on vacation. Vacations do not mean binge drinking till I pass out in places with ear-blasting music. My partying days are over sad to say. Well, is it sad really? I definitely don't miss next day hang overs that now in my mid 30s last an entire week. Ew and never mind to that!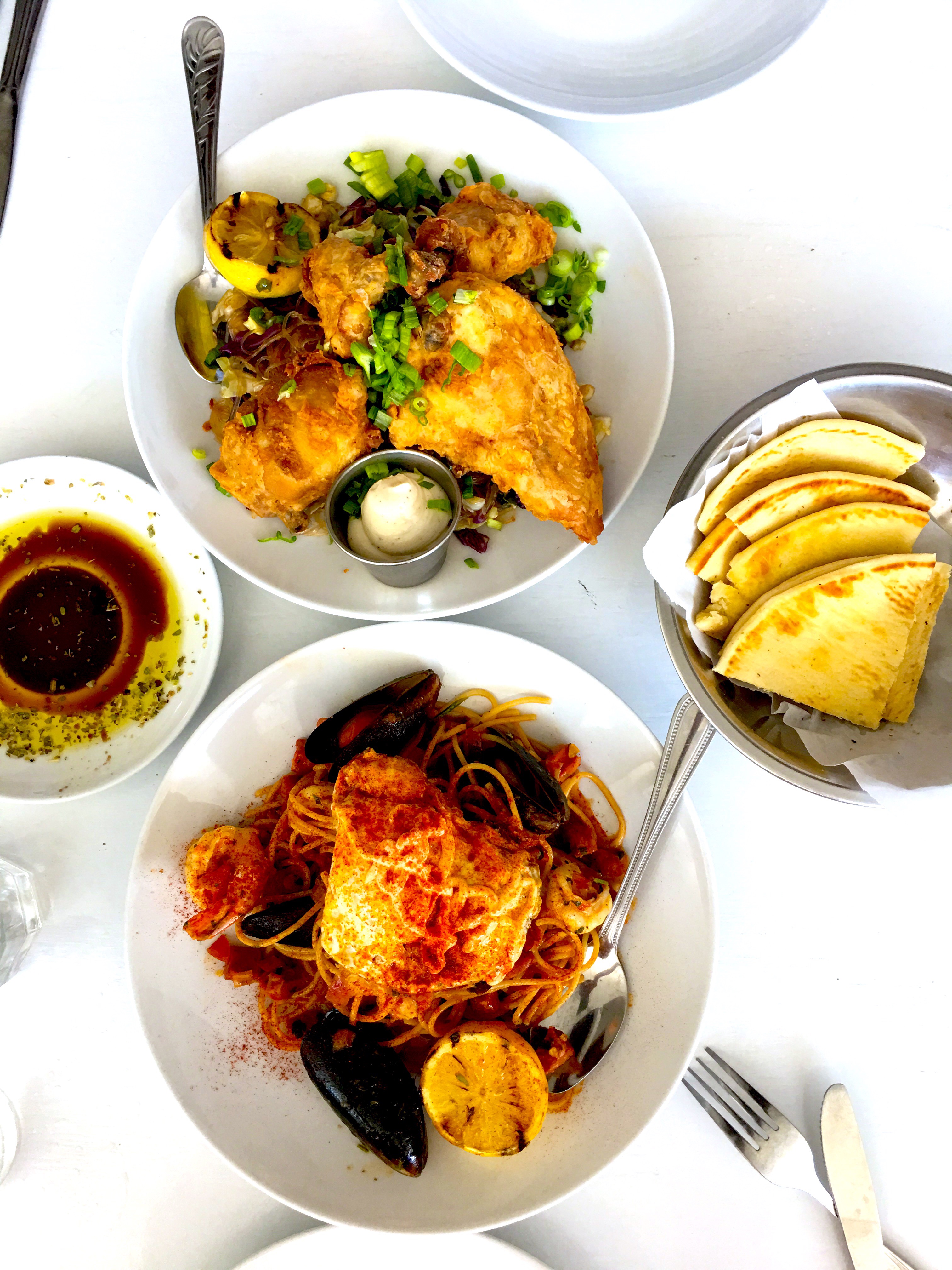 Saturday, 6:00pm
We made dinner reservations at Evzin. Although it's more or less a Mediterranean restaurant, we were intrigued by two menu items inspired by the owners' unique background: Adobo Fried Chicken and Spanish Fideo.  The Adobo Fried Chicken comes on a bed of pancit with an interesting dipping sauce.  I can't remember if the sauce was sour cream-based or not, but it accompanied the chicken well.  The chicken's adobo flavor is present but not so in your face, which I think worked taste-wise.  The only part that was somewhat lacking was the pancit, which tasted more like jap-chae. My filipino fiancé got the same impression, but overall it was still delicious!
As for the Spanish Fideo, there is absolutely nothing wrong you can say about noodles, tomato & seafood. When you add the aioli and fried egg on top, then you're just being unfair. Hopefully we can come back and try the restaurant's more standard Mediterranean fare.
Saturday, 8:00pm
For our after dinner entertainment, we were struggling to choose between the hot tub back at our hotel or live jazz music at the Purple Room. In the end, the hot tub proved too much to resist. Thus the life of two 30 somethings on vacation. It's all about relaxing and doing good things for your body and soul. Although live jazz music would have been an amazing alternative, let's just pencil it in for next time. Also there may have been an UberEats order to the hotel room. But let's not get too risqué.
Sunday, 7:00am
Early morning Palm Springs skies are absolutely stunning. Paired with a glass of complimentary champagne, it adds just the perfect touch! The hotel was gracious enough to give us a complimentary bottle to celebrate our upcoming wedding. Don't mind if I do, but let's coat my stomach with some food first. I'm wearing the Mai Tai body suit from Saltwater Intimates. Check out my Instagram (@getbusydoing) for a 30% discount code.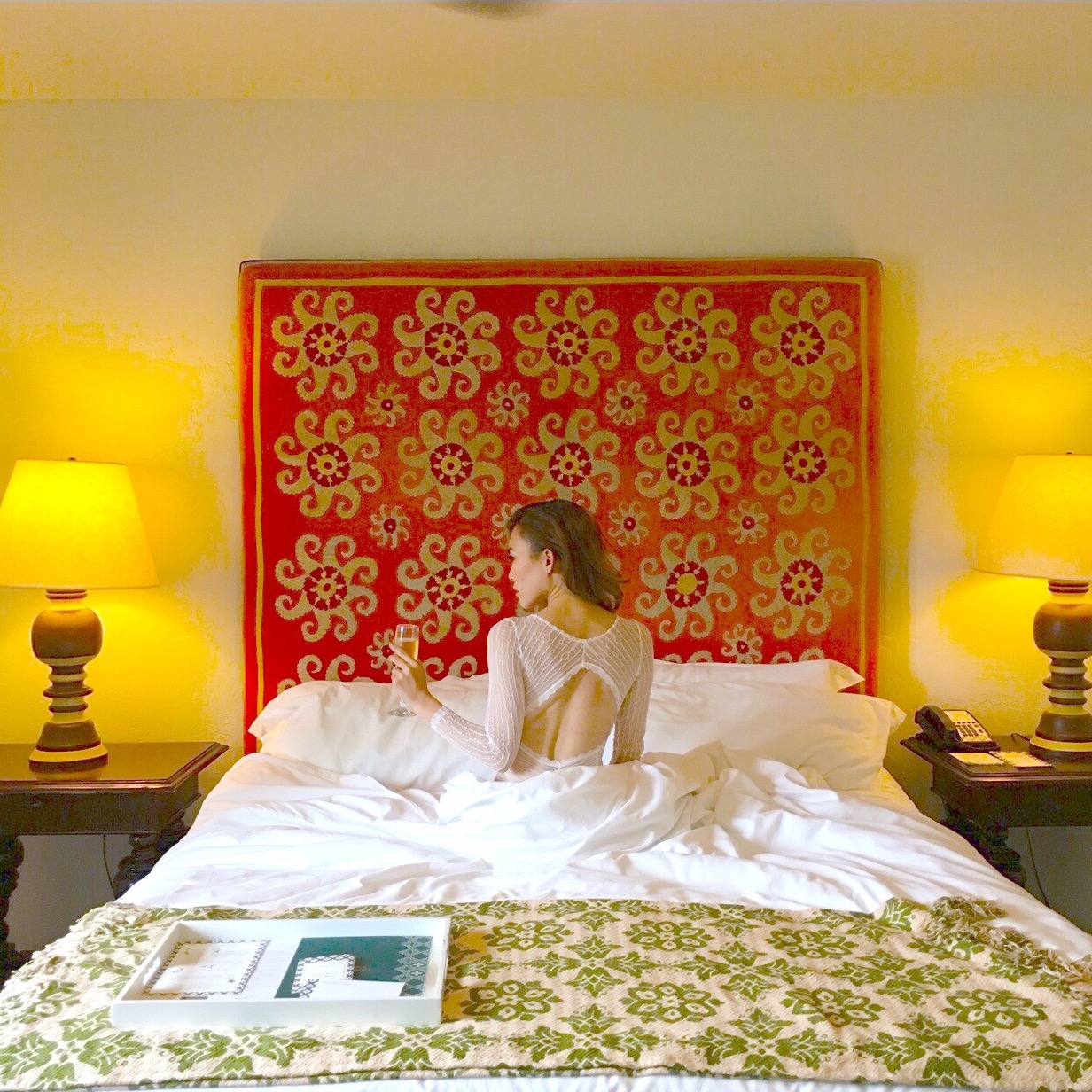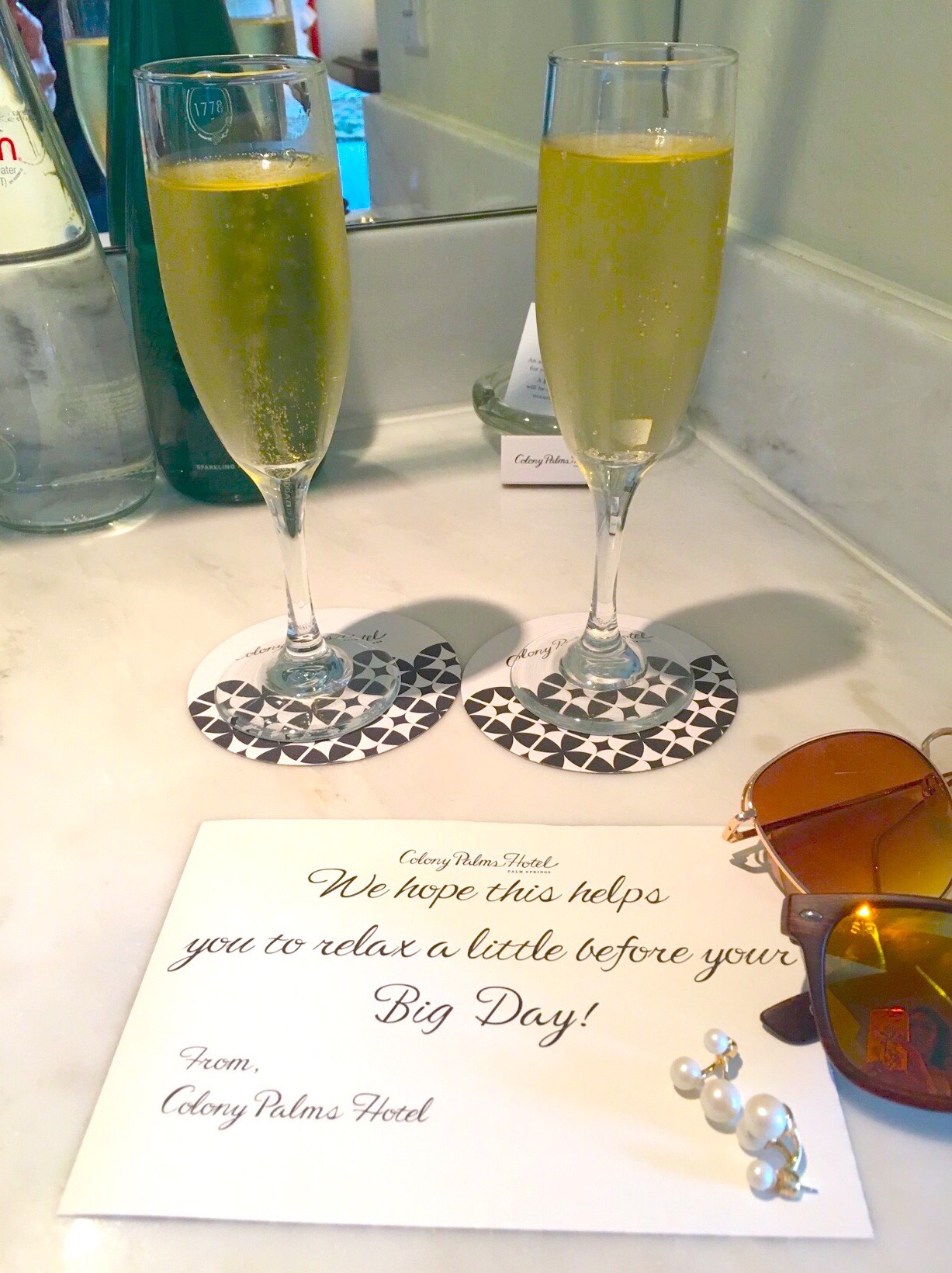 Sunday, 10:00am
Quick stop at the Moorten Botanical Garden and Cactarium. I have heard wonderful things about this unique place. The Moorten family are all desert plant specialists. Their love for plants influenced their decision to turn their residential estate into a living museum of desert lore. This private arboretum was created to share with everyone the beauty and extraordinary varieties of desert plants from around the world – more than 3,000 varieties of plants designed in concentrated habitats along a natural trail. The star of the tour was "The World's First Cactarium" which was essentially the "It's a Small World" for cacti.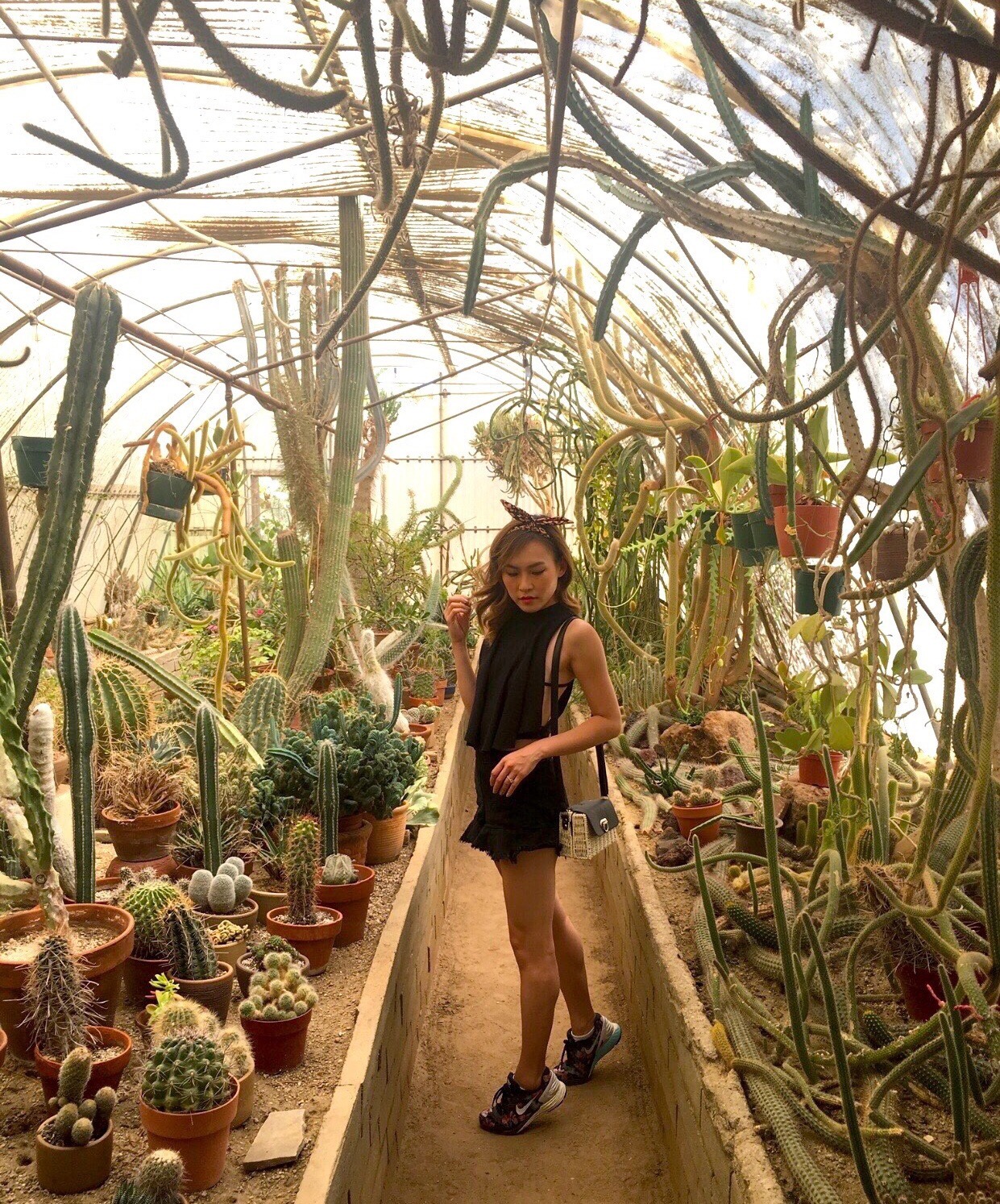 Sunday, 12:00pm
Lunch at Elmer's where we had fabulous German pancakes, potato pancakes and chicken fried steak. The German pancakes were humongous, fluffy and buttery. While they have several varieties, we stuck with the traditional German pancake with lemon and some light seasoning. But after seeing all the other pancake orders whizzing by, with all fruit colors of the rainbow, we could have been a little more 'yolo' (bringing it back!) about our original choice.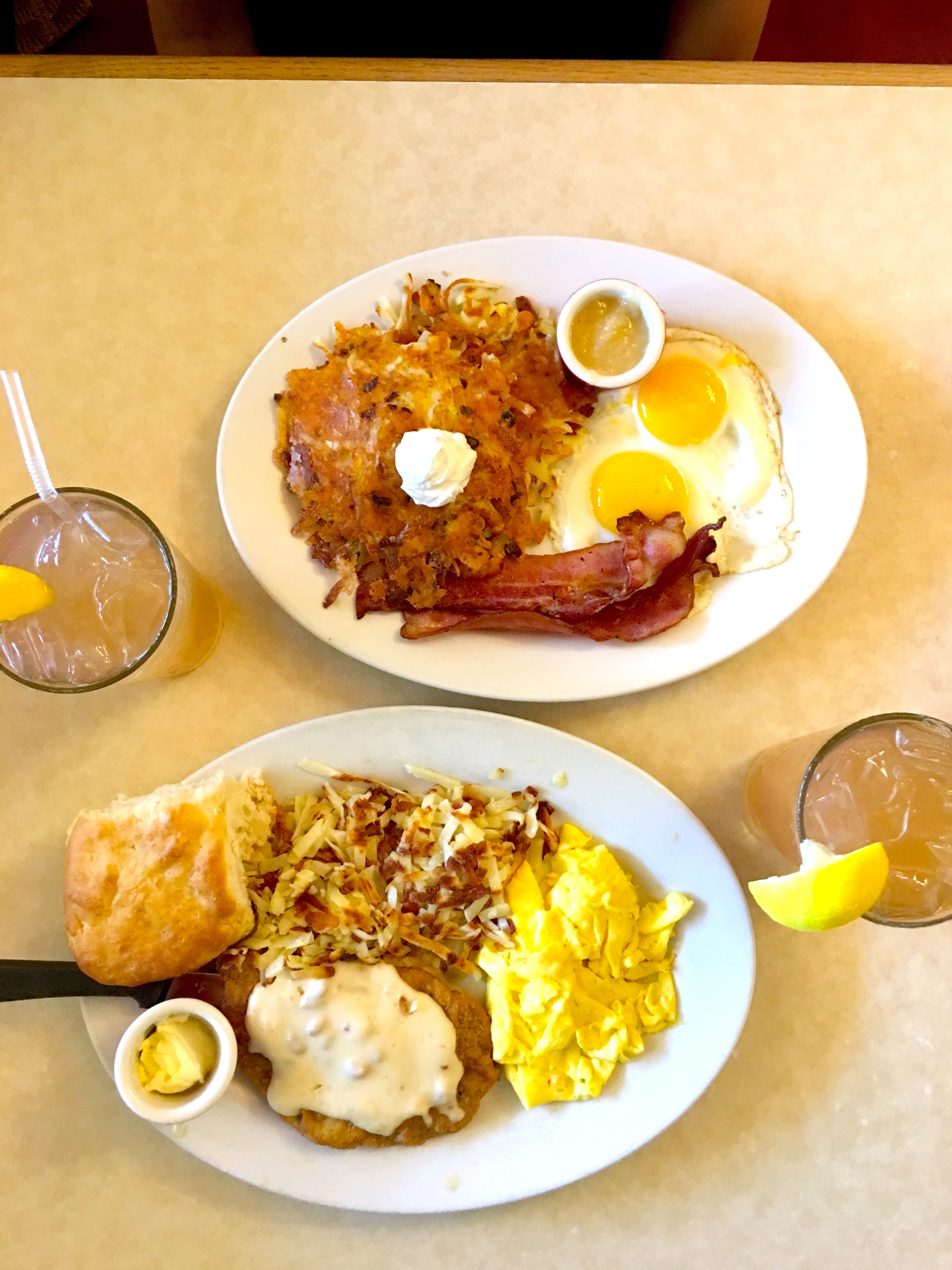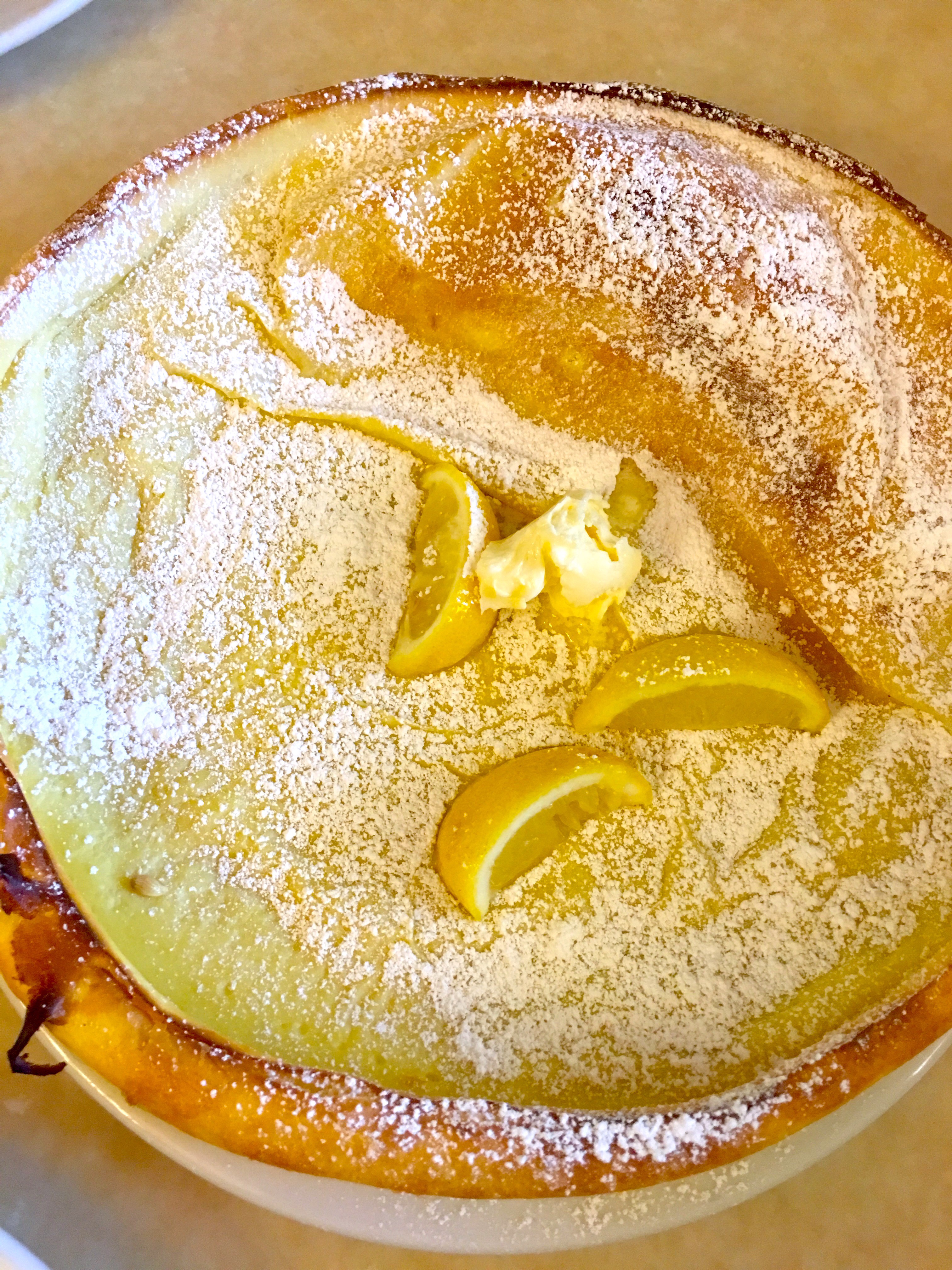 Sunday, 1:30pm
Quick stop to look at the Cabazon Dinos.  Looked like a great place to take our son to, so we decided to wait and forgo actually going inside (cheap life, amirite). Then it was on to some light shopping at the outlets. We bought shoes. 4 pairs of them. Mens shoes.